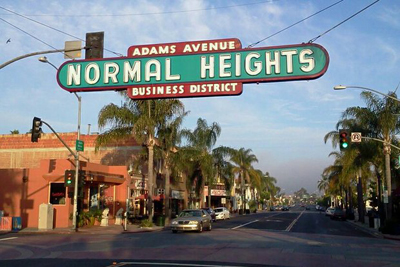 Community of Normal Heights
The community of Normal Heights is located in Southern California in the city of San Diego. The boundaries of Normal Heights are roughly Freeway 8 to the North, El Cajon Blvd to the South, Freeway 805 to the West, and Freeway 15 to the East.
In the late 1800s the area that would become Normal Heights was sparsely populated farmland with only a sprinkling of houses. It was formally organized and platted in 1906 by the University Heights Syndicate under the direction of D.C. Collier and named Normal Heights for the State Normal School in University Heights. On some maps, Normal Heights was shown as "uninhabited territory."
In 2006, Normal Heights is definitely "inhabited territory," with at least 15,000 residents, and dust is not much of a problem, but parking surely is. Normal Heights is known for their area attractions such as the"Street Fair, Antique Fair, The Roots Festival and Taste of Adams Avenue.